November 2023
Annual Progress Report 2022-2023
Due Diligence
Note regarding due diligence monitoring: Officially 14 companies joined the Agreement during year 4. However, during the fourth year, two companies announced their decision to leave the Agreement. They have not been active in implementing their due diligence commitments for the Agreement and are therefore not taken into account with regards to due diligence monitoring and reporting. Furthermore, during the course of the fourth year, a new company joined the Agreement. This company was not expected to deliver all due diligence requirements within the fourth year. Therefore, analyses of the due diligence results include a group of 12 (including the new company) or 11 (excluding the new company) companies.
Due Diligence Efforts
Due Diligence Maturity
The first step in implementing due diligence is embedding IRBC into policies and management systems. The maturity assessment tool helps companies to understand the status of their due diligence implementation within their company. This is a self-assessment questionnaire. There are five different levels of maturity that a company can achieve: 'basic' (0-20%), 'improving' (20-40%), 'established' (40-60%), 'advanced' (60-80%) and 'mature' (80-100%).
The maturity assessment tool was completed and submitted by eight out of twelve companies that participated in year 4. The average maturity score of companies that submitted their self-assessment questionnaire improved from 33% in year 3 to 47% in year 4. This comparison includes 7 companies that submitted their maturity assessment tool both in year 3 and year 4. Within the Agreement, four companies achieved an 'improving' level of maturity, while one company was 'established', two companies were 'advanced' and one company achieved a 'mature' level.


IRBC Policies
This year, eleven out of twelve companies have a published policy on IRBC. IRBC policies from companies can be found here:
Due Diligence Risk Analysis
At the time of writing, seven out of eleven companies submitted their risk analysis. Two companies implemented the six OECD due diligence steps for their preparations of the LME Responsible Sourcing Requirements and the Molybdenum Mark respectively, and therefore adopted an alternative process this year. The Secretariat will be analysing the results to abstract conclusions and share those in aggregated and anonymised way with the Agreement parties in order to identify and select opportunities for collective activities.
Due Diligence Reports
Out of eleven companies that were supposed to publish a due diligence report, seven publicly disclosed their efforts. One company did not have to report on its due diligence activities yet, as it is starting its first due diligence cycle this year. Some companies' reporting cycles differ from the due diligence cycle maintained in the Agreement. Their reports will be published in due course (the foreseen date of publishing is unknown).
Publicly Disclosed Due Diligence Reports form Companies
Enhanced Collaboration on Due Diligence
The civil society organisations of the Agreement paid visits to the companies to enquire about the potential ways in which they could support the companies in doing due diligence. The company visits have provided the civil society organisations with new information about the business activities and value chains of the companies. One or more nodes in the value chains have been identified for each company where the likelihood of IRBC risks appears to be high. This ranges from the working conditions on ships to what the secondary metals chain in China looks like.
More specifically on environmental due diligence, Tata Steel is currently in the process of updating its policies from an environmental perspective and has been using input provided by IUCN NL during various sessions to ensure that all relevant environmental aspects are taken into account. The process will continue in the forthcoming period.
Often companies can start identifying these risks by starting a dialogue with their supplier. In situations where this dialogue already took place, some companies expressed that the information provided by suppliers indicated that there were no risks present. However, an additional check might still be necessary, as companies often need help to properly zoom in on relevant risks. In such cases it can help if civil society organisations conduct research into the situation of a specific region or around a specific supplier.
"It was really valuable to get to know the companies within the Agreement so intensively. We should have done that earlier!"
Roelof van Laar, Global March Against Child Labour
Together with the companies, a number of possible studies have been identified that civil society organisations could start working on in year 5. In some cases a desk study will suffice, in other cases on-site research will have to be conducted. Collective projects also emerge from desk research results. In any case, an investigation into the production of so-called 'big bags'* in India, Pakistan and Turkey will start after the summer of 2023. This can help the company involved to decide where to purchase such products.
"Through these studies, we come one step closer to making a difference for children and communities in developing countries."
Roelof van Laar, Global March Against Child Labour
---
* We expect IRBC risks in the factories that produce the big bags, because the production processes are very similar to the factories that make clothing. The sewing machines used are heavier and the raw material is plastic instead of textile, but the similarities are larger. Because the raw material is not textile, it is expected that these factories have not yet been included in other initiatives in the textile sector.
Collaboration Between Parties on Due Diligence Processes
Due Diligence Support for Companies
The Due Diligence knowledge sessions of year 4 offered valuable insights into various critical aspects of the metals sector and its sustainability and responsible practices.
1. Manganese Project in South Africa – Tata Steel
This session highlighted the process, outcomes, and lessons learned from Tata Steel its project in South Africa, building upon the insights from the 'Manganese Matters' report. The aim was to increase their understanding of the risks in South African manganese mines and engaging with different stakeholders in the manganese value chain. Read more in Tata Steel's sustainability report on 2022.
2. IRBC & Mica Value Chains – Terre des Hommes
This comprehensive presentation discussed the risks associated with child labour in mica production, particularly in India and Madagascar. This issue primarily pertains to the informal and illegal sectors.
3. Overview of IRBC Policy, Laws and Regulations - Ministry of Foreign Affairs
The presentation provided an overview of current and future national and EU regulations on sustainability relevant to the metals sector.
4. LME Responsible Sourcing Requirements – Nyrstar
Nyrstar shared its experiences and preparations for the LME Responsible Sourcing Requirements, including its participation in the Joint Due Diligence Standard.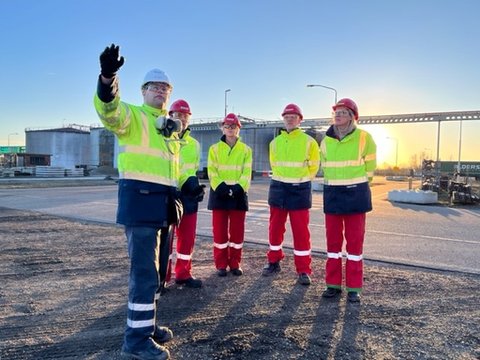 Working Group on Due Diligence
In the sessions of the Working Group on Due Diligence, a diverse range of topics were discussed, among which:
Value chain transparency and the potential role of Open Supply Hub were discussed to promote responsible practices and involve a wider range of companies.
The Molybdenum Mark was addressed in the light of the importance of mutual recognition of various sustainability initiatives and schemes.
Explorations of how and by whom the due diligence webtool developed by the Agreement could be used during and after the fifth and final year of the initial implementation period of the Agreement.
A presentation by The Hague Centre for Strategic Studies provided broader insights into the geopolitical aspects of critical raw materials and how they are related to due diligence in the extractives sector.
Roelof van Laar, Global March Against Child Labour
"I get enthusiastic about small companies that have big international RBC ambitions. Helping them take a step further is why I do it."